2 Star Disney's Davy Crockett Ranch > Kids Facilities
Please note that Disney's Davy Crockett Ranch is SELF DRIVE ONLY.  Guests at Disney's Davy Crockett Ranch may experience some construction traffic and noise upon entering and exiting the ranch due to work taking place on a site next door. Please note that, as part of an ongoing plan to improve the guest experience at Disneyland® Paris, the pool and restaurant at Disney's Davy Crockett Ranch will be closed for refurbishment as of January 2018 until 10/09/18 included. To ensure that guests continue to have an enjoyable and magical stay, every effort will be made to minimize any disruption and inconvenience at this time. During this period, guests will be able to enjoy all the other pools in the resort, except the pool at the Disneyland Hotel. Guests will also be able to take advantage of free access to Villages Nature Paris for the entire duration of their stay, including the Aqualagon. The pools are accessible by car. Food options will still be available at the hotel.
Disney's Davy Crockett Ranch Kids Facilities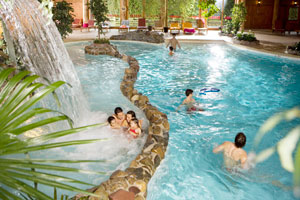 Kids facilities at Disney's Davy Crockett Ranch include outdoor play areas, a games room* and an indoor swimming pool with slide. 
*An additional charge applies.
Call us for more information on 0330 880 5066
©Disney