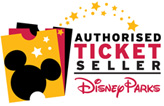 All Disneyland® Paris tickets that we offer give you full and unlimited access to both Disneyland® Park and Walt Disney Studios® Park.
By pre-booking you will take advantage of reduced rates from the prices at the gates in the park so we strongly advise you to pre-book. For ticket only please try and pre-book at least a week before your departure to ensure you receive your tickets in time. We also have the ability to provide e-ticket confirmations for presentation at the park gates. Please call for more details or if you have any other queries for ticket only reservations.

Valid for purchase from 31st March 2022 - 3rd October 2022.
For arrivals from 31st March 2022 - 29th March 2023