10 things you can do in a day at Disneyland® Paris
There are SO many things to do to fill your days at Disneyland® Paris that promises to create magical memories for you, your family and friends. But where do you start with planning? Look no further! We have put together a list of ten of our favourite things to do at Disneyland® Paris that you can easily squeeze into one day.
1. Breakfast with Disney Characters
What better way to get the kids up on a morning by telling them they are going to have breakfast with their favourite Disney Characters? Enjoy a buffet with a wide selection of pastries, cereals, eggs, smoked salmon, pancakes, fruit juice and hot drinks along with Disney Characters to join in the fun - they will stop for a catch-up, some photos and autographs! This special experience is currently located at Plaza Gardens in the Disneyland® Park*.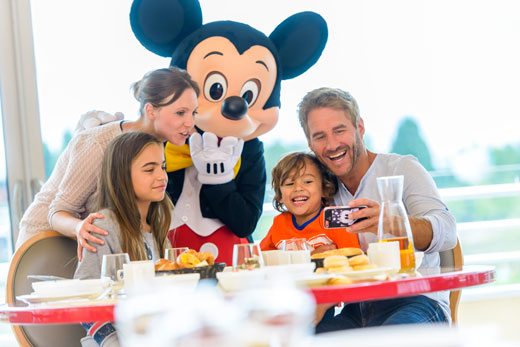 2. Disney Stars on Parade
Jump for joy as Mickey and friends glide by on fabulous floats, including a fire-breathing dragon, that tell Disney stories with an extra sprinkling of magic. There's no better spot then in front of Sleeping Beauty's Castle, but we advise heading to your desired area a short while before the start of the parade to guarantee a top spot.
3. Star Wars™ Hyperspace Mountain
Located in Discoveryland at Disneyland® Park, blast through a swarm of TIE fighters and do battle with a menacing Star Destroyer in this Star Wars takeover of a classic Disney space attraction. This must-do attraction catapults you into darkness and whizzes you past shooting stars and celestial satellites at a speed of 56 km per hour. Plus, this is FASTPASS® attraction, so you can skip the queue!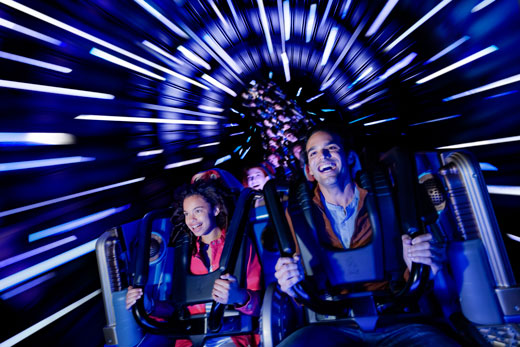 4. Sleeping Beauty's Castle
It won't take long for you to spot Sleeping Beauty's Castle, a figure of elegance rising high in the sky at the end of Main Street, U.S.A.® in Disneyland® Park. Take a look around the castle and every day is Christmas in the Disney store located within. But you must be careful of the life-sized sleeping dragon that occasionally awakens, puffs smoke and roars, underneath the main Castle entrance.
5. Lunch with Disney Princesses
I'm sure you will agree that every child's dream is to spend some time dining with their favourite Disney Princess. Through MagicBreaks, you are able to pre-book a special meal in the fairytale surroundings of the Auberge de Cendrillon restaurant in Disneyland® Park.
6. Meet your favourite Disney Character
Take a stroll down Main Street, U.S.A.® and you may just bump into one of your favourite Disney Characters. Meet and Greets are available at selected times daily in both Disneyland® Park and Walt Disney Studios® Park, so be sure to have your phone fully charged to capture the magical moments. Go one better by purchasing Disney PhotoPass™ and Park photographers will take a professional image that you can download to cherish over and over.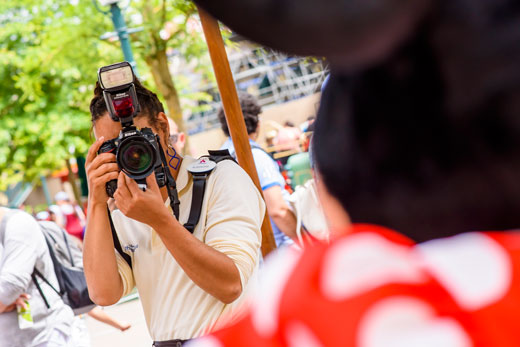 7. The Twilight Zone Tower of Terror™
Only the bravest will dare to enter the Tower of Terror, located in the Front Lot of Walt Disney Studios® Park. Go back in time to October 1939 and experience what it was like when the lightning struck the hotel. Standing at nearly 200 feet, the attraction features several fast drops but on the plus side, you get a gorgeous view of the whole of Disneyland® Paris before your stomach ends up in your throat... Are you prepared for the force of falling 13 floors into the Twilight Zone?
8. Rock 'n' Roller Coaster with Aerosmith
Not for the faint hearted! Located in the Backlot of Walt Disney Studios® Park, listen to Aerosmith play tracks in the studio then embark on a rip-roaring fast rock 'n' roller ride of fun. Accelerating from 0 to 57 miles per hour in 2.8 seconds, makes it the fastest ride at Disneyland® Paris.
9. Buffalo Bills Wild West Show...with Mickey and Friends!
Enjoy live country music in Colonel Cody's Saloon with Sheriff Goofy, before taking your seat. Prepare to defend your ranch in competitions which take place in the arena just in front of you. Sit back and watch how the West was won while tucking into an authentic Texan BBQ.
By pre-purchasing through MagicBreaks, you will save up to £12 per adult and up to £10 per child on the gate prices in Disney Village®. The show is also available as part of the Half-Board Premium Meal Plan which makes the cost even cheaper! We can now also provide Buffalo Bill's show for guests that haven't booked their accommodation package with us.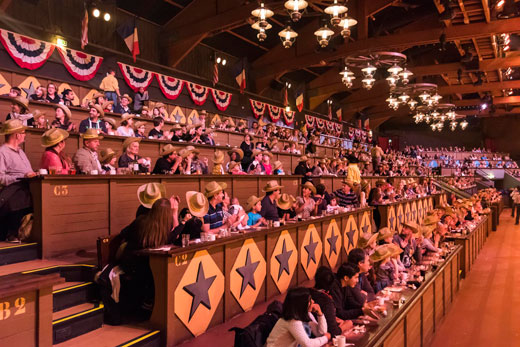 10. Disney Illuminations
Get your flashing ears at the ready and gaze in awe at Sleeping Beauty Castle as Mickey leads you through the night-time extravaganza Disney Illuminations. Magnificent fireworks, incredible light projections and stunning special effects light up classic tales like never before.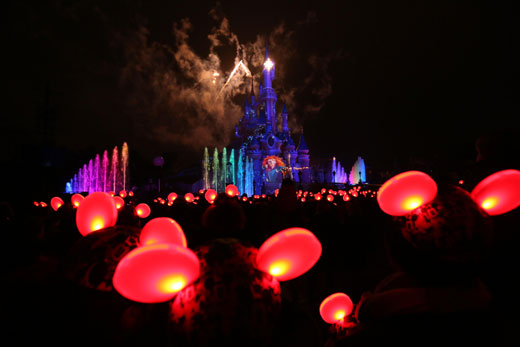 What's your favourite thing to do at Disneyland® Paris? We would love to know!
©Disney