Guests with Additional Needs
Universal Orlando Resort™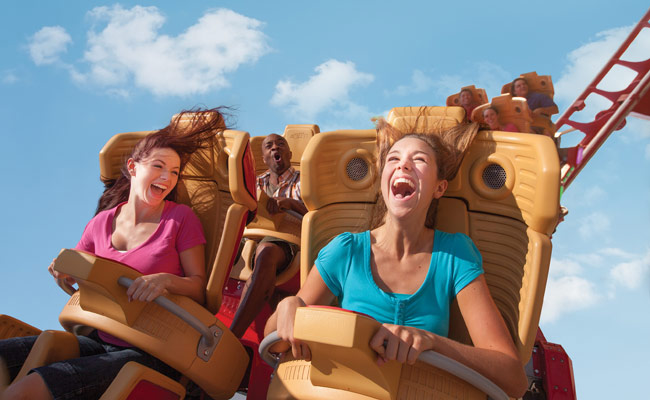 Please find below the latest accessibility information for guests with additional needs visiting Universal Orlando Resort™.

Guests Using Manual Wheelchairs and ECVs
At Universal Orlando Resort™ all attractions are accessible to guests using manual wheelchairs (with the exception of Pteranodon Flyers™ in Universal's Islands of Adventure). At each attraction there are specific boarding requirements and accommodations for those using wheelchairs. If a guest is capable of transferring to the ride vehicle seat either by themselves or with the assistance of someone in their party, they may transfer. For a list of requirements and accommodations for all attractions please see here.
With the exception of Hogwarts Express™, none of the ride vehicles or attraction queues at Universal Orlando Resort™ can accommodate Electric Convenience Vehicles (ECVs) or motorised wheelchairs. At the attractions that are able to accommodate manual wheelchairs, guests may transfer from their ECV or motorised wheelchair into a manual wheelchair provided at each location. If you aren't able to transfer to a manual wheelchair, please see an Attractions Attendant.
For guest convenience, shopping and dining venues at Universal Orlando Resort™ are wheelchair accessible. Stage shows and parades also offer reserved "Accessible Viewing" areas marked with the International Symbol of Accessibility.
At Universal Orlando Resort™ Hotels, all accessibility requirements are complied with to ensure specially equipped guest rooms. All accessible guest rooms include numbers in Braille. Plus, hotel restaurants are wheelchair accessible.
Guest Room accessible features:

Entry doors are 36" wide

Accessible peepholes

Closets with rods are 48" high

Toilets with grab bars

Bathroom choices include roll-in shower stall with adjustable shower head, or combination shower/tub with adjustable shower head, tub seat and hand bar

Closed-caption TV

Smoke detector with light

Guests With Cognitive Disabilities
Some of the entertainment offerings at Universal Orlando Resort™ may overstimulate the senses, from high-speed attractions to energetic live shows and large walk-around characters.
To help guests and their families enjoy their time at Universal Orlando Resort™ comfortably and safely, Universal have created a guide outlining what guests can expect in each park - including attraction information, dining information and other helpful resources. You can find this guide here. 

Guests With Prostheses
Any guests with prosthetic arms or hands are required to ensure the limb is securely attached and are able to grasp the ride restraint on attractions where prosthetics are permitted. On attractions where prosthetic limbs must be removed, certain natural extremities are required to ride safely. For any questions, please ask an attraction attendant or visit Guest Services. 
Certain attractions require prosthetic limbs to be removed before riding. You must remove all prosthetic limbs before riding and still have the ability to 1) continuously brace with an upper natural extremity, 2) independently maintain yourself in an upright position while seated, and 3) when seated, both natural legs must extend to the edge of your seat or terminate below the knee at the following attractions:
Universal's Islands of Adventure

Pteranodon Flyers™
Universal Studios Florida

Hollywood Rip Ride Rockit™ (when seated, you must have one natural full leg and one natural leg that extends to the edge of the seat or terminates below the knee)

Guests With Hearing Disabilities
Interpreting services in American sign language may be requested at no charge for select in-park live action shows in Universal Studios and Universal's Islands of Adventure. Please contact SignLanguageServices@universalorlando.com with requests, with a minimum of 14 days advance notice. You will be contacted prior to your visit to confirm arrangements.
Queue monitors with open captions are available at select attractions. For more information please check ride warning signs for availability, see an attractions attendant or view the Universal Orlando Resort Guide for Rider Safety and Accessibility.

Guests With Vision Disabilities
The Universal Orlando Resort Guide for Rider Safety and Accessibility is available for loan in large print and embossed in Braille at the Guest Services Lobbies at Universal Studios and Universal's Islands of Adventure.
Large print and Braille scripts outlining the dialogue for in-park live action shows are also available for loan at Guest Services in Universal Studios and Universal's Islands of Adventure. 
Many attractions can accommodate guests with a white cane, or they can provide a storage compartment in the ride vehicle to place your cane. Please note that your cane may need to be collapsed on certain attractions. On attractions where your cane may be lost due to ride forces and presents a potential hazard to other guests, an attractions attendant will hold your cane for you after you're seated. It will be available as soon as the attraction vehicle is stopped in the unload area. 

Service Animals
Universal Orlando Resort™ welcomes trained service animals. Animals who do not meet the definition of a Service Animal will not be permitted in the parks. Service animals must remain on a leash or harness and under the control of their handler at all times.
To help you make an informed decision about your service animal's safety, each attraction has specific entry and boarding requirements, as well as portable kennels at certain attractions. Walking areas for your service animal are also available at select locations throughout the parks. For more information please see the Universal Orlando Resort Guide for Rider Safety and Accessibility.

For more information call us on 0330 880 5010.
©2019 Universal Studios. All rights reserved.